Program Highlights
Throughout the conference, a diverse selection of speakers will highlight new technologies and approaches to patient care. This vibrant exchange of knowledge, through multiple specialties and disciplines, is why ASLMS remains the best conference to gain the practical knowledge you need while exploring the future of energy-based medicine.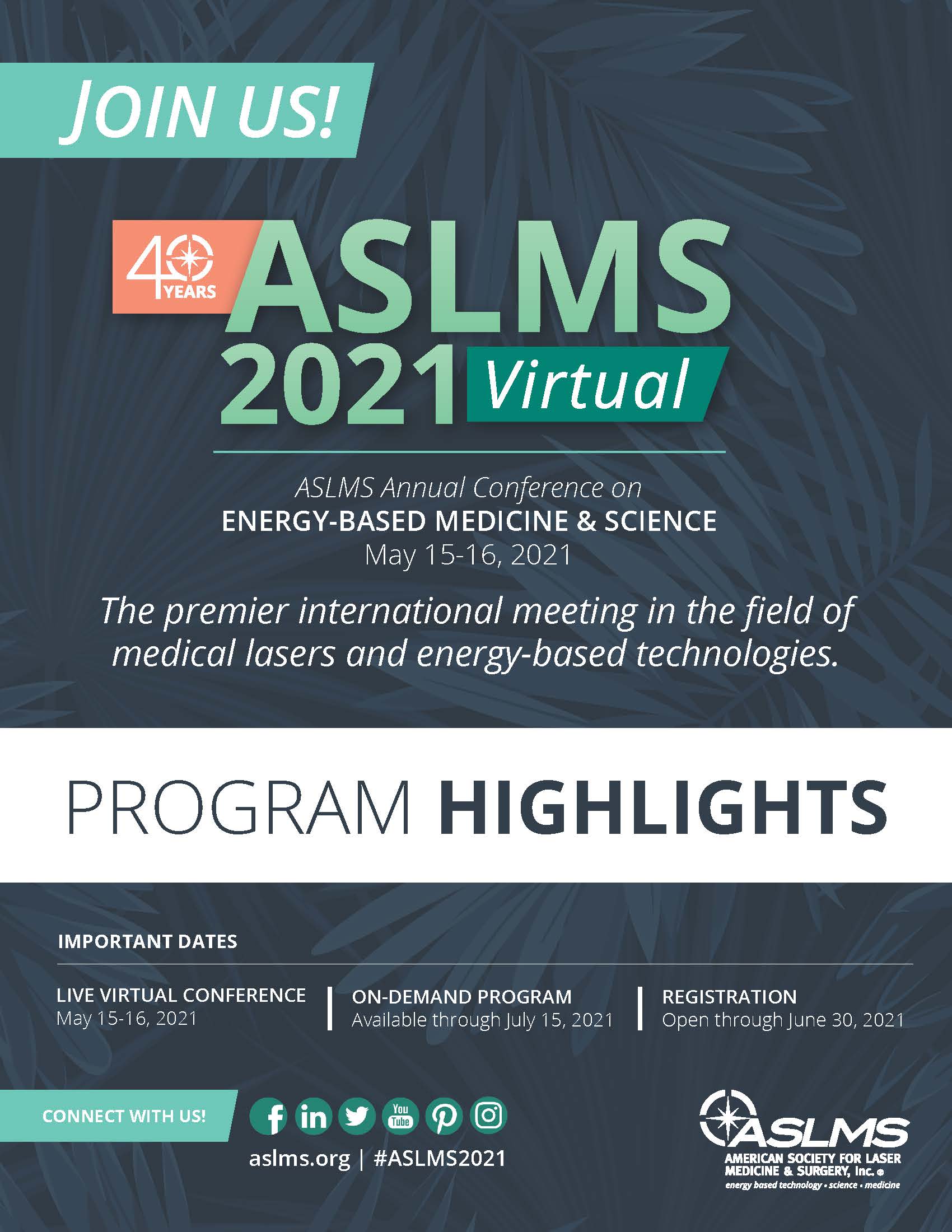 Click the image to view or download a PDF of the Program Highlights.
Please note schedule and credits subject to change without notice.
---
Practical Knowledge to Improve Patient Care
Gain the knowledge you need at one conference! Learn the latest techniques, treatments, and tips to employ in your practice. Special sessions and workshops are taught by key leaders in the field.
Learn the cutting edge of laser treatment of the skin from nationally and internationally recognized experts.
Novice sessions include:

Early Career Clinical and Scientific Abstract Sessions
Special Session: Clinical Research Pearls: All You Need to Know About FDA, IRB, and Industry
Early Career Pearls for Clinical Practice
---
Leading-edge Special Sessions to Highlight What's Next
Basic Science, Clinical Applications and Emerging Technologies Abstracts – Live and On-Demand
Non-CME Industry White Papers and Webinars
Special Session: Cutting Edge
---
Multispecialty Focus to Share Knowledge and Encourage Cross-Fertilization
Clinical Abstracts sessions allow for greater inclusion of multispecialty submissions. Hot topics and presentation subtopics will be highlighted within the daily schedule.
Return of a classic - Parade of Specialties including ophthalmology, women's health, dentistry, and photobiomodulation.
On-Demand Workshop: Optimizing Outcomes in Genitourinary Health
---
Basic Science to Lay the Groundwork
Basic Science Abstract Sessions – Live and On-Demand
On-Demand Workshop: Society for Thermal Medicine (STM) - Photothermal Nanoparticles
On-Demand Workshop: Updates in the Basic Science of Photobiomodulation
---
Translational Research to Seed Innovation
Special Session: Magic Wand: Lab to Clinic
On-Demand Workshop: Imaging and Diagnostics for Cancer
On-Demand Workshop: Translating the Basic Science of Radio Frequency and Microwaves into Clinical Applications
On-Demand Workshop: Drugs and Energy-Based Device Synergies
Dazzle Talks:

Control of Pigmentation: Modulation of Skin Melanins and Topical Agents to Regress Congenital Giant Nevus - David E. Fisher, MD, PhD
Mitochondria as Reversible Regulators of Skin Wrinkles and Hair Loss - Keshav K. Singh, PhD
---
ePosters to Stimulate Further Exploration
Special ePoster Town Hall sessions, Clinical and Scientific, during the conference in which top ePosters will be presented live, with an opportunity for audience questions.
All ePosters will be available for viewing in the virtual ePoster Gallery. Search by author, title or subtopic.